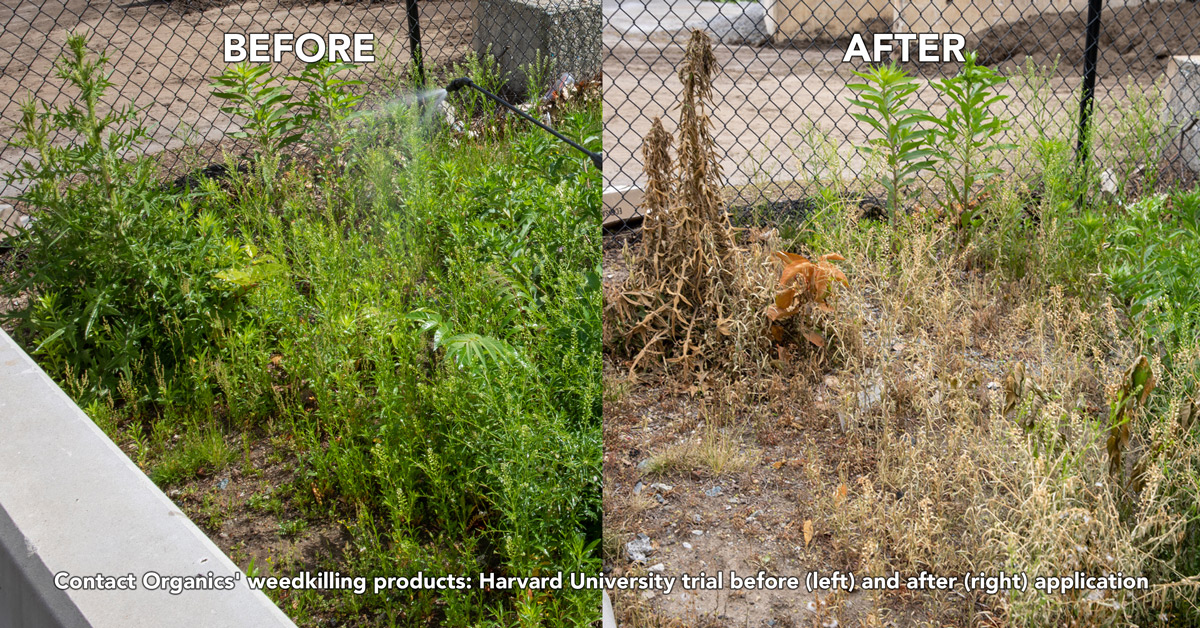 One such alternative has been adopted by Harvard University Landscape Services. By Jonathan Matthews and Claire Robinson
As concerns grow about the health and environmental impacts of glyphosate and other herbicides and the massive scale on which they are being used, the hunt is on for safer and more environmentally friendly alternatives.
 
Glyphosate defenders often claim that there are no effective alternatives but a growing number of approaches are being used, including some highly innovative ones. PAN UK, for instance, lists some of the following as ways of avoiding pesticide use in towns and cities:
* Hot foam systems, like hot water systems, kill plants using heat. These can be used in all weather conditions, giving them a major advantage over chemical herbicides, which can only be sprayed under ideal weather conditions.
* High-pressure hot water treatments can be particularly effective and also have other uses such as chewing gum removal.
* Hand weeding is an option, particularly for smaller areas such as playgrounds and on paths running through parks.
* Various types of manual approaches are available in the form of differing types of mulching. This is a particularly useful approach in ornamental beds and in parks.
* Flame treatment has been used successfully to eliminate weeds.
* Steel brushing can be used for large-scale areas such as pavements and roads – and in combination with the use of acetic acid spraying, can be a very effective alternative.
* Electronic control systems that kill stems and roots instantly and are particularly suited to dealing with invasive species are also available.
Animals and robots
Animals have also been used for weed removal, like the goats used to clear weeds, including invasives, in New York's Central Park. Councils in Australia are also using goats against invasive species. In Scotland, black-faced sheep are being used to eat the giant hogweed that chemical sprays struggle to kill. And goats and sheep are being used as weed clearers by a growing number of landowners and farmers, with the dung from the grazing animals also helping to enrich the soil.

At the other extreme, you've probably heard about robotic weeding. Although robots are being developed that deliver doses of herbicide, non-chemical robotic weeding is also being developed. In the UK, for instance, the Small Robot Company is making use of RootWave's electronic weed zapping technology in robotic weeding on UK farms.
Non-toxic herbicides
Another approach is the use of non-toxic herbicides. Often these involve acetic acid dilutions to control weeds. One of the main advantages of acetic acid, the main component of vinegar, is that it is biodegradable and so poses no risk of bioaccumulation.

Howard Vlieger*, managing director of Contact Organics USA, tells GMWatch that Harvard University Landscape Services has implemented a sustainable landscape management programme using just such an approach, his company's Weed Terminator20 weedkiller product.
The Landscape Services adopted the product after a successful trial in June this year. You can see the results of the trial here.

The weedkiller is composed of 20% acetic acid. It is applied with a formulation of adjuvants (additives) consisting of a natural oil and emulsifier, known as Boost. The exact ingredients of the adjuvants are confidential business information, as is usually the case with herbicide formulations. The safety data sheets for Weed Terminator20 and Boost are here.

The company describes its products as non-toxic, readily biodegradable, and non-bioaccumulative. It reports that they work on glyphosate-resistant weeds.

Howard Vlieger says, "A two-year study has been conducted by Dr Bob Kremer of the University of Missouri and will hopefully be published this year. It demonstrates that our products improve the microbiome of the soil."
Caution needed
A note of caution is needed here. Glyphosate-free weedkillers are a business opportunity that herbicide manufacturers, including Monsanto itself – now owned by Bayer, are fully alive to, and there is even a Roundup herbicide that is marketed as "without glyphosate", and which uses acetic acid. But a study published in Food and Chemical Toxicology found that 14 such glyphosate-free herbicides marketed in Europe actually contained a number of seriously toxic compounds, many of which derive from petrochemicals, as well as heavy metals. We go into this issue in more depth here.
More than just weeds
Finally, in some situations, plants labelled as "weeds" don't need removing – they're a blessing. And of course, for cash-strapped councils, not removing them is a lot cheaper – as long as they can survive the backlash from the "neat and tidy brigade".

Jon Burke was a Hackney councillor responsible for the east London borough beginning to phase out glyphosate in 2018, after children protested against its use outside the town hall. A borough-wide ban began in 2020.

Burke said: "The major threat presented by glyphosate is the fact that we're eliminating plants from the public realm in the middle of a mass extinction event.

"The majority of plants growing in the public realm are not weeds, but a mix of wildflowers and other things. Some of these plants are the only source of food for very specific species of insects. What I wanted to do was change the perception in Hackney, and potentially more broadly in the UK, of what a clean and tidy public realm is. We've grown up with this reaction that any kind of plant in the public realm makes it look scruffy and untidy – and yet we have a simultaneously high tolerance in the UK for McDonald's wrappers in the gutters."

For soul-nourishing images of the fruits of campaigns to bring back wild flowers into our urban spaces, see the @morethanjustweeds Twitter feed.

For more information on ways of going herbicide-free, see PAN UK's Alternatives to Herbicides.


*Howard Vlieger has been very active for many years in the GMO and glyphosate arena from an investigative and research standpoint. As a result of a recent GMWatch campaign asking for financial support, Howard responded with a small monthly contribution.