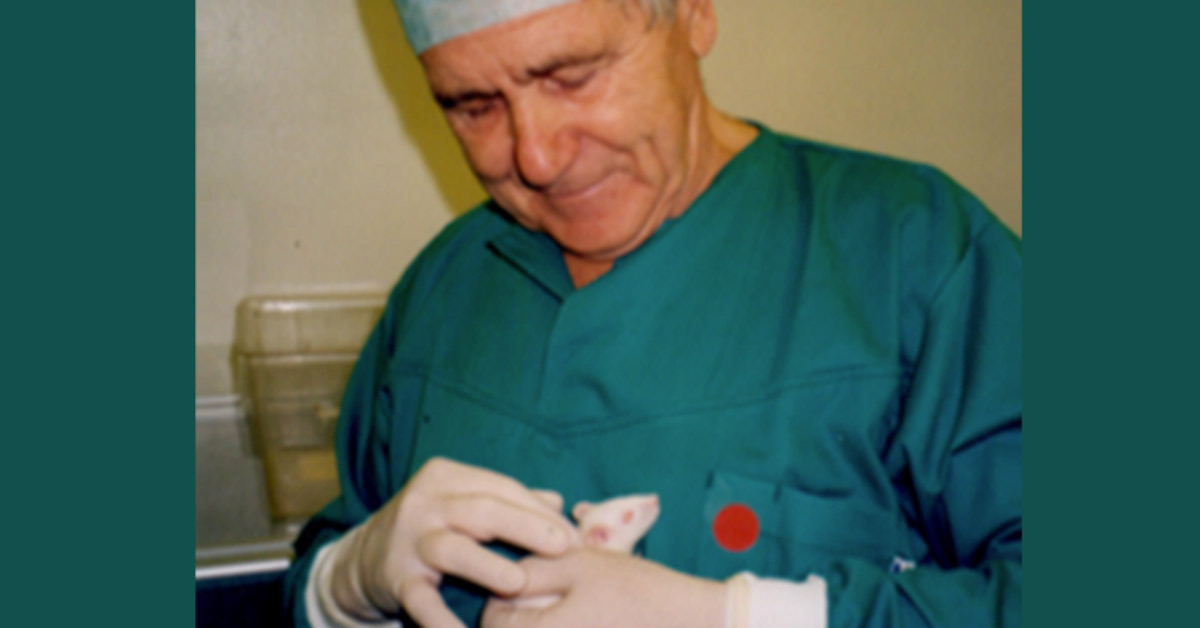 Excerpt from Don't Worry, It's Safe to Eat, by Andy Rowell
Dr Arpad Pusztai, the scientist who woke up the world to the dangers of GM foods, died in December 2021. The definitive account of what happened to him after he revealed his experimental results on British television is told in Andy Rowell's book, Don't Worry, It's Safe to Eat, first published by Earthscan in 2003 and republished by Routledge in 2015. As a tribute to Dr Pusztai, we are reproducing the two carefully-referenced chapters of Andy's book that describe these events, chapter 5 (below) and chapter 6, with kind permission of the author (exclusively given to GMWatch).
As the UK government gears up to remove safety checks and labelling for the second generation of GM foods, the Pusztai affair is a timely reminder of why we need better regulation, rather than deregulation, of such foods.
---
CHAPTER 5: Hot potato
'The public has the right to expect the very highest standards of food safety. Confidence in the safety of the food we eat has been severely undermined in recent years and I am determined to rebuild that trust'  Tony Blair[1]

'They picked the wrong guy – I will kick the bucket before I give up'  Dr Arpad Pusztai

As we witness the dawn of the biotech revolution, Dr Arpad Pusztai is a scientist who is convinced that he has uncovered vital evidence that shows there are potential major health risks with GM crops. Pusztai was catapulted from an unknown laboratory scientist based at the Rowett Research Institute in Aberdeen to the forefront of a raging debate about the safety of GM foods, when he spoke on the World in Action TV programme in 1998.

Overnight the Hungarian-born scientist, with some 35 years lab experience, found himself at the centre of an international media spotlight. The controversy would put him on a collision course with the UK and US governments, the biotech industry and the scientific establishment. His 150-second interview lead to Pusztai being suspended, silenced and threatened with losing his pension. His wife, Susan Bardocz, who also worked at the Rowett for 13 years, was eventually suspended too. Their research was locked up. Scientists and politicians alike vilified Pusztai.

The fall-out left many unanswered questions, and just like BSE, the more you look, the more uncertain the existing answers become. Although the Pusztai story became well-known within the GM debate, the full story of what happened has never fully been told and remains a controversy.

As we search for answers as to whether GM foods are safe, two questions stand out. Given such a huge controversy over Pusztai's experiments, and the preliminary nature of their findings, why were the political and scientific establishments so intent on rebutting him? More importantly why have the experiments never been repeated? In the answer to those questions lies the kernel of truth. But the truth will only unfold after the UK's Prime Minister, Tony Blair, clarifies whether he had any role in Dr Pusztai's sacking.

The issue has had very personal consequences. Pusztai has suffered two heart attacks and the saga has left him and his wife, Susan, needing permanent medication for high blood pressure. Pusztai is still angry about the whole affair. His only crime was to speak out, in his words, according to his conscience: 'I obviously spoke out at a very sensitive time. But things were coming to a head with the GM debate and I just lit the fuse', he says. 'I grew up under the Nazis and the Communists and I understand that people are frightened and not willing to jeopardise their future, but they just sold me down the river.'

Dr Arpad Pusztai

Pusztai's story begins in post-war communist Hungary. After the Hungarian revolution was crushed by the communists, the young Pusztai, a chemistry graduate, escaped to refugee camps in Austria and from there to England. By 1963, having finished his doctorate in biochemistry and post-doctorate at the Lister Institute, he was invited to join the prestigious Protein Chemistry Department at the Rowett Research Institute, then headed by Dr Synge, a Nobel Laureate, and the co-discoverer of chromatography.[2]

The Rowett Institute was founded in 1913 to conduct research into animal nutrition, and has broadened its aims to 'define how nutrition can prevent disease, improve human and animal health and enhance the quality of food production in agriculture'. It has become the pre-eminent nutritional centre in Europe.

Dr Pusztai was put to work on lectins, plant proteins that were going to be central in the GM controversy years later. Within a year Pusztai had won acclaim for the Rowett by discovering glyco-proteins in plants, which until then had been identified only in mammals. Over the intervening years, Pusztai became the world's leading expert on plant lectins, publishing over 270 scientific studies, and three books on the subject. Two books were co-written with his wife, Susan.

Pusztai became one of the Rowett's most senior and renowned scientists. At the age of 60 Pusztai should have retired, but he was asked to stay on by the Director, Philip James. Pusztai won a prestigious Leverhulme Fellowship and became a Fellow of The Royal Society in Edinburgh.

In 1995, the Scottish Office Agriculture Environment and Fisheries Department commissioned a three-year multi-centre research programme under the coordinatorship of Dr Pusztai into the safety of GM food. The other participating institutions were the Scottish Crop Research Institute (SCRI) and Durham University Biology Department. At the time there was not a single publication in a peer-reviewed journal on the safety of GM food.[3]

The fact that the Scottish Office was primarily in control, rather than the Rowett later added to the controversy. 'These experiments were organised without any reference to myself or the Directorial system at the Rowett', maintains Professor Philip James, head of the Rowett at the time, who says the experiments were going on 'completely outside his control'.

'The background behind the GMO work was to try and balance the fact that a lot of the work on biotechnology was happening with very little regard to environmental or human nutritional consequences', says a person who was involved in the initial negotiations, but who has since left the Scottish Office. 'Dr Pusztai was a renowned scientist on the international scene. He had an international reputation. The fact that Pusztai was kept on at the Rowett is very unusual. Anybody who stays beyond 60 does so for quite exceptional and outstanding reasons. The ability to deliver on results is part of the assessment process we went through.'[4]

The scientists' primary task was to establish credible methods for the identification of possible human/animal health and environmental hazards of GM. The idea was that the methodologies that they tested would be used by the regulatory authorities in later risk assessments of GM crops.[5] For the first time, independent studies would be undertaken to examine whether feeding GM potatoes to rats caused any harmful effects on their health, bodies or metabolism.[6]

All three institutes had links to the biotech industry. Also connected to the project were the growers of the potato, Axis Genetics, later to become Pestax Limited. Scientists paid by the company were working at the University of Durham. Axis Genetics and the Rowett had a profitsharing agreement should the potatoes ever be commercially grown.

'Nothing is ever done out of the goodness of our hearts', says Pusztai. 'In those days we thought everything was going to be all right and here we are doing work that would make the potato commercially valuable. We do work at the expense of the taxpayer. But if a private company was going to make money out of it, it is fair enough to share that profit. That was why we had a profit-sharing agreement.'

Although Pusztai's experiments were later criticized for having 'flawed' methodology, his team fought off competition from some 28 other research organizations from across Europe to be awarded the £1.6 million contract. The project methodology was also reviewed and passed by the Biotechnology and Biological Sciences Research Council (BBSRC), maintains Pusztai. The BBSRC is the leading funding agency for academic research and training in the biosciences at universities and institutes throughout the UK. 'What speaks volumes is that the grant was awarded to us and not to the other 28 competing research organisations. They don't give that sort of money without checking it out. It is standard practice and makes common sense,' argues Pusztai.

The theory behind the modification of the potatoes was simple. For years Dr Pusztai had explored the beneficial effects of lectins in foods as well as in nutritional supplements and pharmaceutical agents. Lectins can affect the digestive systems of insects and can act as natural insecticides.

Arpad's work had shown that one such lectin called GNA (Galanthus nivalis), isolated from the snowdrop, acted in this way.[7] Pusztai had worked on the snowdrop lectin since the late 1980s. 'The GNA gene was selected because our studies had shown that GNA caused no harmful effects on the mammalian gastrointestinal tract', says Pusztai.

The thinking was that, if you could genetically modify a potato with the lectin gene inside it, the potato could have an inherent built-in defence mechanism that would act as a natural insecticide, preventing aphid attack. Because it looked promising, the snowdrop gene had already been incorporated into several experimental crops, including rice, cabbages and oil-seed rape.[8]

But lectins can also affect the mammalian gut. Pusztai had already shown that the lectin from the red kidney bean could 'induce marked intestinal damage to the mammalian gut', which is why we soak and boil red kidney beans. So one of his lingering concerns was whether lectins introduced in genetic engineering could damage the mammalian gut as well as pests.[9]

James says that Pusztai did a 'great service' with lectins. 'He highlighted the fact, in talking to the plant biotechnologists, that they were pretty clueless about the potential biological effects of lectins. They just thought they were wonderful. They had never perceived that if they knocked the hell out of insects' guts, they might knock the hell out of human guts too'.

After the three research institutions divided up the tasks ahead, the scientists at Durham University and the SCRI were to look at the effects of GM plants on certain target pests, and beneficial insects. The Rowett scientists' main task was to see if potatoes genetically modified with the GNA lectin were 'substantially equivalent' to parent potatoes and to undertake the rat-feeding trials. Dr Pusztai and his team were not expecting any trouble.

But by late 1997, the first storm clouds were brewing at the Rowett. Preliminary results from the rat-feeding experiments were showing totally unexpected and worrying changes in the size and weight of the rat's body organs. Liver and heart sizes were getting smaller, and so was the brain. There were also indications that the rats' immune systems were weakening.[10]

The results were causing disagreements between the Rowett and the other project members from Durham and the SCRI, who were against disclosure of the results. 'We almost had fisticuffs, almost violent discussions at these meetings', recalls Pusztai. 'They tried to question our competence. I demanded to sort it all out.' To resolve the issue, Pusztai argued, the Scottish Office examined his methodology. 'It was clear that we had professional competence', says Pusztai. A person close to the project from the Scottish Office says that: 'The projects were all subject to scientific review, they were reviewed inside out by external and independent referees'. But the relationship between Dr Pusztai's team and the other research institutes continued to deteriorate.

Pusztai carried on with his experiments, working with a close colleague, Stanley Ewen, who is the one of the top pathologists in Aberdeen, having 37 years experience. Ewen has never had any contractual arrangements with the Rowett, as he is employed by the University of Aberdeen. His academic involvement with Pusztai, he says was for the 'love of science'.

Like Pusztai, Ewen has reached the top of his field. Over his career he has published 160 scientific papers, which he feels was 'not bad'. He is also a deeply Christian man, who plays the organ at his local church, and is a passionate fly-fisher, especially on the upper Dee, one of Scotland's most famous rivers.

Ewen and Pusztai have had a long working relationship, publishing their first paper in the mid-1980s. Since then they have spent a decade working together, including presenting papers at EU meetings. The pathologist maintains the work he has done with Pusztai is some of his best, because 'each time the experiments seem to get better, such as the quality of the tissue samples, because we were getting so experienced at it. In my judgement it was the highest quality work'.

But by the beginning of 1998, scientists at the Rowett, including Pusztai and his boss Philip James, were becoming concerned about GM developments and the inadequacy of trials on GM foods, specifically GM maize. James, who was a member of the Government's Advisory Committee on Novel Foods and Processes (ACNFP) asked Pusztai to assess the validity of licensing applications from Ciba-Geigy and Monsanto, amongst others (see Chapter 7). Pusztai's reply was that the tests were inadequate.[11]

Professor James has headed the Rowett since 1982, and is one of the world's leading nutritionists. In the mid-1990s, not only was James on the ACNFP, but he also had nearly 20 other professional work commitments on other advisory panels, bodies, committees and editorial boards.[12] Even he was not immune to external pressure and says that he was 'not reappointed' to one committee when it was realized he was writing a paper that highlighted the problems of GMOs.[13]

James' primary responsibility, however, was as the Director of the Rowett, although his work commitments often kept him away from Aberdeen. By the late 1980s James had fallen out with the Tories, but became friendly with the then leader of the opposition, Tony Blair. The two men were said to get on. It was no surprise that James was chosen by Blair to set up the blueprint for a Food Standards Agency (FSA) whilst Labour was still in opposition. The James report, as it was known, was published a week after Labour came to power in May 1997.[14]

James was in the running to lead the FSA, but the political storm that surrounded Dr Pusztai's TV appearance on World in Action put paid to his chances and Sir John Krebs landed the coveted job. James left the Rowett in 1999 and is currently chair of the International Obesity Taskforce.

James was later to tell Pusztai 'you destroyed me'. 'I was blamed for Arpad's behaviour,' he says. 'I got the blame when I didn't even control the damned experiments. I think I have been absolutely honourable throughout.'

Adding to James' and Pusztai's anxiety were the results beginning to appear from Pusztai's lab. Early in 1998, with the approval of Professor James, Dr Pusztai appeared on Newsnight. 'We are putting new things into food which have not been eaten before', Pusztai said on the programme. 'The effects on the immune system are not easily predictable and I challenge anyone who will say the effects are predictable.' 'Nobody phoned me afterwards,' recalls the lectin specialist. 'I was happy with what he said on Newsnight', says James.

The following month, BBC Frontline Scotland interviewed James.

'Once the BSE problem is solved, if it is solved', argued the Professor, 'then I think the big public concern is going to be about the huge array of genetic manipulations that we are going to be seeing in the food chain. I think the perception that everything is totally straightforward and safe is utterly naïve.' James also said he was struggling with the challenge that 'the power of the major companies is huge and the question is how are we going to cope and make sure that things are done appropriately'.[15]

But Pusztai's Newsnight appearance had caught the eye of Granada's World in Action, who approached the Rowett for an interview with him in April. 'It was common knowledge in the country in scientific circles that there were no other groups doing this type of research and therefore it was quite natural that they came to us', says Dr Pusztai. 'I didn't look them out'.

With the full backing of Professor James, filming took place in late June. Dr Pusztai recalls the Rowett press officer being present for most of the time. He had, he believed, the full backing of his boss and the senior management team of the Institute.

But the World in Action programme was experiencing technical difficulties and its transmission was delayed until Monday, 10 August. On the Sunday, 9 August, the media speculation began to increase about the programme when World in Action issued a Press release, which declared: 'New Health Fears Over "Frankenstein" Food'. It read 'World in Action reports on the new research from Britain's foremost food science lab, the Rowett Institute in Aberdeen. Scientists there have discovered that rats fed on genetically modified potatoes suffered stunted growth and damage to their immune systems after 100 days'.[16]

The following morning momentum built, with Pusztai appearing on GMTV opposite Dan Verakis from Monsanto. 'I think the important thing here is that the safety of the technology at large is not in question,' said Verakis. 'What we are talking about is potentially some issues surrounding one gene, this is one gene out of hundreds and thousands that could be used in biotechnology'.[17]

Two Rowett press releases that day backed Pusztai. The first was from its Chairman, James Provan, MEP calling the work 'of strategic importance to our country and European Union consumers'.[18] The second acknowledged Pusztai as a 'world expert on the impact on dietary lectins. As a result of Dr. Pusztai's work, Professor Philip James, the Director, alerted MAFF several years ago to the possibility of inappropriate genetic material being inserted into foods unless account was taken of its potential biological properties'. It noted that due to this 'MAFF changed its system of scrutiny for novel foods and this also led to changes in the European approach to novel foods.'[19]

The Con A controversy

However, it is at this point that Pusztai and the Rowett begin to argue over the series of events. In disputed circumstances, people started talking about a different – and crucially poisonous – lectin from southern America called Concanavalin A, known for short as Con A. How this happened is still disputed, but the error appeared in the second Rowett press release on the Monday. The crucial difference is that Con A is a known toxic lectin, whereas the snowdrop – GNA – was supposed to be non-toxic.

Pusztai says he never talked to people about Con A. 'I still don't know how the situation came about, this mix-up did not come from me. Some of the information was thrown in as a red herring from someone, but not Professor James'. Pusztai also says that he did not see the second press release that mentioned Con A.

Professor James says he personally took the second press release to show Pusztai, although in parliamentary evidence he later conceded that 'Dr Pusztai did not see that final check'.[20] James says that on Monday afternoon Andy Chesson, his deputy, did three hours of interviews talking about Con A, and it was not until the Tuesday – the day after the programme – that they found it to be untrue that the experiments had been done with Con A.

Pusztai points out that having worked on GNA – the snowdrop lectin – for over a decade, he was very unlikely to start talking about a different one. Stanley Ewen is convinced too that Pusztai did not get muddled. 'Arpad has always had a clear vision. He is certainly never muddled. He was on top of the whole business.'

'I think that is the most likely source of the misinformation, and that the whole Con A potato story originates with Monsanto', speculates Pusztai. Indeed on GMTV, earlier that morning Dan Verakis from Monsanto, without mentioning the gene's name, implied that Pusztai's results were 'no great surprise'. 'It is well known that that particular gene that was tested creates a protein that could have some issues with the immune system,' said Verakis, talking about Con A, not the snowdrop lectin.[21]

On GMTV Pusztai had not mentioned any specific gene, keeping to his agreement with James, saying that 'we knew in advance that there might be some problems so we used it as a positive control.'[22] Trying to counter the red herring, Pusztai was saying that the Con A had been used as a 'control' experiment. The crucial experiment had been undertaken with the snowdrop lectin, GNA. The error also appeared in the Express, which splashed its headline with 'Genetic Crops Stunt Growth'.[23]

The effect of introducing Con A into the story was 'devastating', says Pusztai. This was because it had 'planted into peoples mind that we were doing experiments with genetically modified potatoes into which the gene for a toxin had been inserted and therefore why were we so surprised that it had caused adverse effects to the rats.'

The myth is still used to counter Pusztai today. It was used to undermine Pusztai even after it had been established that the experiments had in fact been done with the snowdrop lectin, GNA. Jack Cunningham, the Government Enforcer repeated the misinformation, saying 'it is simply not sensible to conclude that if a laboratory experiment with a known toxin added caused damage to rats that all other GM products are therefore unsafe.'[24]

Writing the same month, Professor Derek Burke, chair of the ACNFP from 1988 to 1997, sought to dismiss Pusztai's experiments: 'When he [Pusztai] added a substance called Con A to the potatoes, the animals went sick because their immune systems were damaged. That wasn't at all surprising since Con A is known to be poisonous. And if you add cyanide to lemonade you won't be surprised if it kills you when you drink it.'[25]

The 150 seconds that changed the GM debate

So what exactly did Pusztai say? On Monday night, World in Action broadcast. 'We're assured that this is absolutely safe,' said Pusztai. 'We can eat it all the time. We must eat it all the time. There is no conceivable harm, which can come to us. But as a scientist looking at it, actively working in the field, I find that it's very, very unfair to use our fellow citizens as guinea pigs. We have to find guinea-pigs in the laboratory.'

Dr Pusztai had been told not to talk about his experiments in detail, but he did say, in a sentence that would become the centre of the controversy, that 'the effect was slight growth retardation and an effect on the immune system. One of the genetically modified potatoes, after 110 days, made the rats less responsive to immune effects'.

He continued: 'If I had the choice, I would certainly not eat it till I see at least comparable experimental evidence which we are producing for our genetically modified potatoes. I actually believe that this technology can be made to work for us. And if the genetically modified foods will be shown to be safe, then we have really done a great service to all our fellow citizens. And I very strongly believe in this, and that's one of the main reasons why I demand to tighten up the rules, tighten up the standards.'[26]

'I still think what I said was common sense', says an unrepentant Pusztai now, 'and I wouldn't like to withdraw any of it. We are eating something that is untested. It stands to reason that there are risks and these risks we ought to find out before and not after. There is nothing inflammatory about that'.

On the evening of the broadcast, Professor James 'congratulated,' Pusztai on his TV appearance, commenting on 'how well Arpad had handled the questions'. After all the hype surrounding the day, 'what he said I thought was modest,' says James.

The following morning a further press release from the Rowett noticed that a 'range of carefully controlled studies underlie the basis of Dr Pusztai's concerns'.[27]

The riddle of the Rowett

Once again Pusztai and the Rowett differ in what happened next. On Tuesday James maintains he asked Pusztai's staff for the GNA data for the 110-day experiment, which he claims they told him did not exist. 'I couldn't believe it, because he had told the world that he had GNA studies for 110 days on immunology and growth, which he didn't have', says James, who adds that the Con A data did not exist either. 'I just said that this is the end of the world for us all'. James maintains that this is the reason why Pusztai was suspended on the Wednesday.

James' version of events is contradicted by Pusztai and other evidence. On Tuesday afternoon, the day after the programme, Pusztai's wife, Susan Bardocz, wrote a summary of all the work that had been undertaken by her husband's team. This was a five-page document that read: 'During the 3 years of the programme we conducted several experiments with the parent potato lines spiked with ConA or GNA (in amounts expressed in transgenic plants) as these were the two proteins whose genes were favoured by plant breeders in our collaboration. In addition, we carried out some short- and long-term experiments using transgenic potatoes with the GNA-genes inserted into their genomes. The responsiveness of the immune system was also checked'. The longterm experiment was number D237.28

This document clearly shows that long-term GNA feeding studies had been undertaken, including checking for any kind of immune response. It was given to Philip James, Ian Bremner, the Rowett's deputy, Andy Chesson, at a meeting with Pusztai, Susan and the team's immunologist at 3.00 pm on that Tuesday afternoon. Pusztai maintains that it was agreed that Ian Bremner would use Susan's report to write an authoritative press release to be released the next morning, clearing up the controversy over Con A and GNA lectin and backing up Pusztai.

But on Wednesday morning, instead of releasing the press release written by Ian Bremner, Pusztai and Susan were told to hand over their data. All GM work was stopped immediately and Pusztai's team was dispersed. His three PhD students were moved to other areas. Pusztai was also removed from other European work. He was threatened with legal action if he spoke to anyone. His phone calls and emails were diverted. No one was allowed to speak to him either. 'Even my personal assistant was told not to talk to me. I was then in limbo. I couldn't go into the lab, but they couldn't throw me out as I still had four months of my contract to work', he recalls.

Professor James also announced that he was setting up an audit of Pusztai's work, in order to 'clear' Pusztai's name. Pusztai was told to hand over everything to the Audit Committee. It was also announced that once the audit was finished, Pusztai's contract would not be renewed. It was whilst reading about his retirement in the press release on Wednesday that the enormity of what had happened finally hit home.

His 'retirement' would delight the biotech industry: 'We are very pleased that the Rowett Research Institute has publicly regretted the tremendous harm caused by publicising this type of very misleading information in the name of science', said Dan Verakis, whom Pusztai had debated with two days earlier.[29]

'Scientist's potato alert was false', ran The Times.[30] 'Got it Wrong', ran the Mail.[31] 'In one of the most embarrassing admissions by a scientific institution in years, his superiors announced that the biologist – a world authority in his field – had been talking about the wrong potatoes,' wrote Tim Radford in The Guardian.[32]

The Rowett press machinery was adopting Orwellian overtones and beginning to change the official story. First of all they said that Pusztai had got muddled with the wrong potatoes, then they had said that the experiments had not been done, but finally they reported that Pusztai had done the right experiments but the results were not ready yet. So the press release on that Wednesday morning said that 'by late yesterday it emerged that the relevant data provided by Dr. Pusztai referred not to experimental studies on potatoes with transgenic Con A but to GNA transgenic potatoes. The detailed analysis on the transgenic GNA studies are due to be completed by Friday'.

Although the Rowett's version is contradicted by the evidence contained in Susan's report and later by its own audit, James was sticking to his story. 'There was a series of GNA genetic modification studies that had been conducted, including the feeding studies on 110 days. My hunch is Pusztai had the body composition data for the rats for 110 days, what he didn't have was the immunology, which was the key story he was talking about.' James appeared on the media that day to say that Pusztai 'unfortunately had muddled up two experiments' and that 'the wrong gene was identified as being involved'. The Rowett stuck to this line until the summary of the audit report showed that the studies had in fact been carried out. James also said that the reason the Rowett had allowed Pusztai to speak was that it would have been improper for the 'Rowett to be seen in any way to suppress a scientist with an international reputation who has this concern,' over his experiments.

But Pusztai had undertaken both short- and long-term feeding experiments with the snowdrop lectin, as Susan's report showed, and had immunological data. Stanley Ewen, had worked with Pusztai on the shortterm feeding experiment. 'It was April '98 that the actual experiment was done, with the snowdrop lectin', says Ewen. 'All the experiments were extremely high quality, the ultimate in slickness. But we didn't expect any differences, this was only a test to develop a test to confirm the safety of these things.' Meanwhile the long-term feeding of 110 days had been started on 29 January 1998 and finished on 18 May.

Other disputed events happened on the Tuesday too. Two phone calls, Pusztai says he was told, were put through to James from the Prime Minister's office. One was 'around noon, the other was slightly earlier'.

He learnt this information from two different employees at the Rowett, who could be sacked if their identities were known. The Pusztais were also later told by someone at the Rowett, currently in a senior management position at the Institute, that Bill Clinton had phoned Blair and told him to sort out the problem. 'That was the beginning of all the trouble – Arpad was sacked as a consequence of what was said in those phone calls,' says a friend.

The events of August 1998 have always puzzled Stanley Ewen, too. He often wondered what caused the sudden turn-around at the Rowett.

Speaking about the incident for the first time now he is retired from the University of Aberdeen, he confirms the Pusztais' stories, but crucially he was told by yet another senior member of the Rowett. This makes four separate Rowett personnel who have spoken in private about the phone calls. 'On Tuesday, Blair phoned the Rowett twice, although everybody denies it', Ewen says.

He recounts the story of how he found out. There was an orthopaedic fundraising dinner taking place in Aberdeen. 'I didn't want to go to it at all, but it was put to me that it was a charity thing to raise money for orthopaedic research. It was put to me by one of my PhD students that I was one of her father figures, so she was putting pressure on me, and I said I would go'. Ewen attended the dinner with his wife. It was on the night of 24 September 1999. As one of the VIP guests, he was seated on the top table, next to another senior person from the Rowett. 'It was a very pleasant dinner indeed', he recalls, but it just so happened that his PhD student's 'other "father figure" was this person from the Rowett. I simply stated what a terrible time it was because of all the problems at the Rowett, and how I thought Arpad had been hard done by, by being suspended and I couldn't understand it. I couldn't understand how on the Monday it was the most wonderful breakthrough and on Tuesday it was the most dreadful piece of work and immediately rejected out of hand'.

The person from the Rowett said that 'there wasn't one, but two phone calls from Tony Blair on Tuesday', the day after the day after the World in Action programme. 'That's how he said it … It is my [Ewen's] understanding that the phone call was from Monsanto to Clinton, Clinton to Blair and then Blair to the Rowett.'

'I believe he was involved in senior management', says the pathologist. 'The way the Rowett runs, like many institutions, is there is a small core group of, what they call, senior management, that will make all the running and recommendations. He must have heard from a secretary who was there at the time.'

Ewen says, when he heard this, his 'jaw dropped to the floor. 'The conversation is sealed in my memory', he recalls. 'He very quickly cleared off, very sharpish. I think he realised that he had let the cat out of the bag. That was the feeling I got. Immediately great remorse overcame him and he went off very quickly.'

'I suddenly saw it all then, it was the missing link. I understood that the Director would have to toe the line, and would have to, as was presumably suggested, "kill off the research by whatever means," and it was immediate suspension for Arpad and he was threatened that if he broke his silence he would lose his pension. They have the power to do that'.

Ewen declined to name the person, but further investigations have established that it was Professor Asim Dutta-Roy. Speaking in late 2002, from his new job at the Norwegian Institute of Nutrition Research, Dutta-Roy does not recollect the conversation at the dinner party, saying 'I think I met him at a party, but it was a long time ago'.

There remains of wall of silence from the Rowett over the issue, and the staff have been threatened with dismissal if they talk about the affair, says Pusztai. The Rowett and Philip James denied any political interference to the Science and Technology Select Committee. 'At no time', wrote the Rowett, 'has the Rowett Research Institute been under any political, industrial or other pressures.' James reiterated this, saying that the decision to suspend Pusztai was made 'totally free from any influence, at any level, whether it is political, industrial.' He also maintained that, if he had received a phone call, 'I would have ignored it'.[33]

One ex-employee who was prepared to talk is Professor Robert Ørskov OBE. Professor Ørskov worked at the Rowett for 33 years, and is one of the UK's leading experts in ruminant nutrition, being currently involved in some 20 projects across the world. Ørskov is the Director of the International Feed Resource Unit, which was part of the Rowett until June 2000, when it moved to the Macaulay Institute, in Aberdeen. He is a consultant to the UN FAO and Fellow of the Royal Society of Edinburgh. He too was told about the phone calls.

Professor Ørskov says he was told that the phone calls went from Monsanto to Clinton to Blair. 'Clinton rang Blair and Blair rang James – you better keep that man [Pusztai] shut up. James didn't know what to do. Instead of telling him to keep his mouth shut, they should have told him to say it needs more work. But there is no doubt that he was pushed by Blair to do something. It was damaging the relationship between the USA and the UK, because it was going to be a huge blow for Monsanto, if it was the cauliflower mosaic virus [CaMV] promoter which was the method they used for genetic modification'.

But Professor James is adamant the phone call never happened. 'There is no way I talked to anybody in any circumstances' he says. 'It's a complete pack of lies. I have never talked to Blair since the day of the opening of Parliament in 1997.'

Although there is no proof that phone calls ever took place, Pusztai points to other evidence about Blair and GM. It is a well-known fact that Blair had been persuaded to back GM by Clinton, leading even the BBC to remark that in the GM debate 'a question mark remains over the government's independence of pressure from Washington'.[34]

In the mid-1990s the Clinton administration was backing the biotech industry 'second to none'. One White House staff member said the 1990s were going to be the decade of 'successful commercialization of agricultural biotechnology products'.[35]

Clinton's Agriculture Secretary was Dan Glickman. He says that the attitude was 'that the technology was good. It was almost immoral to say that it wasn't good because it was going to solve the problems of the human race and feed the hungry and clothe the naked. And there was a lot of money that had been invested in this, and if you're against it, you're Luddites, you're stupid ... You felt like you were almost an alien, disloyal, by trying to present an open-minded view on some of the issues being raised. So I pretty much spouted the rhetoric that everybody else around here spouted; it was written into my speeches'.[36]

There were precedents for the Clinton administration using strongarm tactics on European governments before. Clinton and Gore were said to have pressurized both the Irish and French governments to take GM. The Clinton Administration and Monsanto were known to have a 'revolving door' with key personnel moving between the company and the administration. For example, at one stage on Monsanto's board were Mickey Kantor, former Secretary of Commerce and one of Clinton's closest advisors, William Rucklehaus, former director of the Environmental Protection Agency, and Gwendolyn King, former head of Social Security Administration.[37]

In Europe, top Clinton aides, including US Trade Representative Charlene Barshevsky, Secretary of State Madeleine Albright, Secretary of Agriculture Dan Glickman, and Secretary of Commerce William Daley, had all made representations on behalf of Monsanto.[38] Two people who played a key role in Labour's 1997 election victory, Dave Hill and Stan Greenburg, were also employed by Monsanto. Hill had left the Labour Party after 25 years to work for PR company Bell Pottinger, but he was said to be spending much of his time acting as a media advisor to Monsanto. Greenburg, who was close to Clinton and Blair, was also acting for the biotech giant.[39]

Why were Pusztai's results so threatening?

Incredible as it may seem, Pusztai's work was the first set of independent experiments undertaken to look at the health effects of GM foods. Industry-funded research had been carried out, but very little had ever been made public. Anything that questioned the safety of GM products would seriously undermine the future of the biotechnology industry, which had close political and ideological ties at that time to both the Clinton and Blair administrations.

When Pusztai spoke out in August 1998, the new Labour administration was already beginning to shape government policy for its second term. It was looking for drivers of the economy that could be trusted to deliver the growth and hence results that Labour needed. Hightech industries, such as biotechnology, were to be the central cogs of the engine that would drive the Blairite revolution, and deliver the coveted second term. What Pusztai was saying could literally derail an entire industry and with it many of the hopes and aspirations of New Labour.

But when you look at the precise nature of the Rowett work, you begin to understand how damaging Pusztai's results could be to the biotech industry, despite the fact that it was preliminary research. Part of Pusztai's remit had been to examine whether the potatoes were 'substantially equivalent'. Substantial equivalence is the internationally recognised concept by which GM food is compared to its non-GM counterpart. It was first conceived by the OECD (Organisation for Economic Cooperation and Development) in 1993, which concluded that 'If a new food or food component is found to be substantially equivalent to an existing food or food component, it can be treated in the same manner with respect to safety'.[40]

According to the principle, certain chemical characteristics are compared between a genetically modified product and any variety within the same species, past or present. If the two are grossly similar, the GM product does not need to be rigorously tested, on the assumption that it is no more dangerous than the non-GM equivalent, which should have a long history of safe use. The biotech industry has long argued that GM produce is 'substantially equivalent' to its non-GM counterpart and therefore should not undergo rigorous health or environmental studies. One of Pusztai's first tasks was to see whether his genetically modified potatoes – those with the GNA lectin inside – were 'substantially equivalent' to their non-GM equivalents. What the Rowett scientists found was unexpected: in one of the experiments, the transgenic GNA potatoes actually contained some 20 per cent less protein and therefore were not 'substantially equivalent' to their non-GM counterparts at all.

This was an immensely important finding, as the studies had shown that as the GM potatoes were not substantially equivalent, then they should be subject to much more stringent safety tests, maybe along the lines of pharmaceuticals. Such testing would delay the whole introduction of GM food by years or even decades, and make the entire biotech revolution commercially non-viable. The whole notion of 'substantial equivalence' continues to be a major subject of controversy within the GM debate – see Chapter 7.

Moreover, this is not the first time that researchers had experienced unexpected results with GM potatoes. Researchers at the University of Oxford had genetically modified potatoes to have low levels of the NADmalic enzyme. Unexpectedly they created high starch potatoes. 'We were as surprised as anyone,' said the head of the department undertaking the research. 'Nothing in our understanding of the metabolic pathways of plants would have suggested that our enzyme would have such a profound influence on starch production.'[41]

Secondly, and even more worrying, were the results of the actual experiments themselves. Pusztai maintains that when the rats were fed modified potatoes the development of the kidney, thymus, spleen and gut were significantly affected. So too was the body metabolism and immune function of the rats. Pusztai also found that the size of the rats' brains were affected, too, but he did not dare publicise this fact, because he believed people would think he was being too alarmist.

So what was causing the problem? No one doubts that more research needs to be undertaken until that answer is known, but there are several potential causes. If the snowdrop lectin was to blame, this could undermine the safety of other commercial products containing lectin. The year of the World in Action programme, some 7.7 million hectares of crops containing another lectin Bacillus thuringiensis (Bt), for example maize and cotton, had been planted.[42] Other researchers have been finding problems with the Bt lectin too, as outlined in Chapter 7.

However, some scientists believe it is the genetic engineering process itself which is to blame and Pusztai and Ewen were later to allude to this in their Lancet publication. 'When you genetically engineer crops or food it is not a simple straightforward process, you are introducing several genes which may disrupt a whole host of other gene functions, and the whole process is very difficult to predict', says Dr Sue Mayer, from GeneWatch UK. 'Many of these issues have been neglected in the race to commercialize and there has been very little attention given to those other genes, and what effect they may be having.'

Biotech proponents often argue that biotechnology is a precise science, but it is not as straightforward as some would have you believe. Belinda Martineau worked for the biotech firm Calgene in developing the first biotech product, the Flavr Savr™ tomato. 'Plant genetic engineers at Calgene and throughout the rest of the ag biotech industry have no idea where the genes will end up in the DNA of a recipient plant … insertion could even take place in the middle of a gene, disrupting and mutating it' she says.[43] These mutations could have unpredicted effects, which could take years to become apparent.

The inherent unpredictability of GM science was reflected in a major book published in March 2002 called Fruit and Vegetable Biotechnology. One of the authors, Dr Javier Pozueta-Romero, from the Instituto de Agrobiotecnologia y Recursos Naturales in Spain noted that 'In plants there is a preference for random integration of the introduced DNA, which frequently leads to the accidental inactivation of important genes and to variable and unpredictable expression of the transgene itself. In some plants, over 90 per cent of T-DNA insertions may disrupt transcriptional units leading to transformants with visible mutant phenotypes.'[44]

This disruption can lead to instability, which Dr Phil Dale, a leading pro-GE scientist from the John Innes Centre, has described as a 'headache' as the precise mechanisms of gene silencing remain unclear.[45] But the instability problem is widely recognized. 'Desirable new phenotypes created by genetic engineering of plants are frequently unstable', continues Dr Javier Pozueta-Romero. 'This genetic instability is due not to mutation or loss of the transgene but rather to its inactivation.'[46]

A 1994 paper in Bio/Technology highlights issues of instability due to gene silencing, where the transgene can be 'switched off '. 'While there are some examples of plants which show stable expression of a transgene these may prove to be the exceptions to the rule. In an informal survey of over 30 companies involved in the commercialization of transgenic crop plants, which we carried out for the purpose of this review, almost all of the respondents indicated that they had observed some level of transgene inactivation.'[47]

The authors also suggested that gene silencing was far more common than we are normally led to believe. 'Many respondents indicated that most cases of transgene inactivation never reach the literature.'[48] So not only is it more common, but it could cause severe problems. Pozueta- Romera suggests that silencing could 'also affect the expression of homologous host genes, a phenomenon referred to as co-suppression that can have dramatic consequences for the survival of the plant if it involves a housekeeping gene or a defence-related gene'.[49]

The nightmare problem for genetic engineers could be that the random nature of the transgene has caused the plant to grow correctly on the outside but inside the cells some unforeseen reaction has taken place with unknown consequences, caused in part by gene silencing. It is the regulators' worst nightmare – a technology they say is safe, but which now has unknown and unexpected consequences.

Some scientists believe that part of the problem could be a gene that is currently central to genetic engineering, called the cauliflower mosaic promoter, which activates the transgenic gene. Basically it works as an on–off switch for the GM process. The patent for the cauliflower mosaic virus is owned by Monsanto.50 The patent to the booster to the cauliflower mosaic gene is owned by Diatech, a company owned by Lord Sainsbury, the UK Science Minister and one of the biggest financial backers to the Labour government. Diatech was put in a blind trust when Sainsbury became a Minister.[51]

According to Pusztai, an independent statistical analysis published by the Scottish Agriculture Statistical Service, included data on both the transgene and also the construct. He maintains that the statistical analysis shows damage caused by the construct, a part of which is the Cauliflower Mosaic Virus 35S (CaMV 35S) Promoter. A statistical table seen by the author shows 'significant' damage to the pancreas, liver, small intestine and brain caused by the construct.

If CaMV 35S was to blame, the implications for the biotech industry are severe as it is currently used in the majority of the GM foods that have been granted marketing consent by the EU. Of the 11 marketing consents given, seven contain the CaMV 35S.[52]

Dr Michael Hansen is a food specialist for the Consumers' Union in the USA. The very powerful nature of the promoter could be its problem, with severe consequences, he believes. 'The CaMV 35S promoter is used precisely because it is such a powerful promoter' argues Hansen, 'which leads to hyperexpression of the transgenes, having them be expressed at perhaps two to three orders of magnitude higher than of the organism's own genes. The CaMV 35S promoter effectively puts the transgene(s) outside of virtually any regulatory control by the host genome as the natural plant promoters for each gene allow'.[53]

The CaMV 35S can also cause gene silencing.[54] This worries scientists such as Hansen. 'Since the CaMV 35S is so strong,' he says, 'not only can it affect the introduced transgenes, it can also affect genes (either turn them 'on' or turn them 'off ') thousands of base pairs upstream and downstream from the insertion site on a given chromosome and can even affect the behaviour of genes on other chromosomes. Consequently, depending on the insertion site, a gene that codes for a toxin could be turned 'on', leading to production of that toxin.'[55]

Already scientists are seeing things they thought they would never see, such as faulty gene therapy resulting in leukaemia in GM mice being caused by the strong promoters. For example, an article in New Scientist in 2002, noted that 'gene therapy pioneers are always worried that the viruses they use to shuttle therapeutic genes into patients might accidentally dump their cargo in the wrong spot on the chromosome. In this case the inserted DNA could … trigger the expression of cancer causing oncogenes, or disrupt sentinel genes that guard against cancer. It seems that these fears were justified'.[56]

Stanley Ewen is also very concerned about CaMV 35S. 'I think it would be reasonably suggested that animal experiments should be done for each new vegetable if they are using the CaMV 35S promoter', which Ewen believes is a 'very, very powerful' growth promoter.

Ewen worries about GM foods that might be eaten raw as the promoter might not be broken down. 'What I am very concerned about is the next generation, the fruits and vegetables that are GM and have something introduced into them that make them insecticidal. If they use the same lectin in lettuces, for example, I would be concerned about that because these are usually eaten raw'.

'This is the thrust of our argument – it is that it is the present technology that is wrong, it is not GM food in general, it is if it uses this particular promoter'. He worries that it could be a trigger for cancer, and he worries about the interaction between the CaMV 35S and polyps that are found in people's intestines. A polyp is a growth that projects, often on a stalk, from the lining of the intestine, usually in the colon. They are important because they can turn into cancer. 'My concern is that we could be speeding up the development of cancer. The polyp could go through various steps more rapidly because the growth factor could be making it grow faster.'

Ewen argues that raw vegetables or raw fruit will not actually be completely digested in the upper gastro-intestinal tract as our enzymes would be quite ineffective against intact plant cell walls. 'The plant cell walls are made of lignen and when we look for example at the appendix, there is quite often easily identified sections, bits of vegetables present in the lumen of the appendix.'

'The only place in the body in the gastro-intestinal tract where digestion can occur is due to bacteria in the colon, now bacteria can break down the lignen of the cell wall and liberate the DNA from the nucleus,' says Ewen. His concern is that the genetically modified DNA, which is acting as a growth factor could attach itself and cross the cell membrane of the polyp. 'It could then find itself acting on the nucleus of the polyp because that is what a growth factor does,' says Ewen. 'Then the growth factor could accelerate the growth of the polyp. We understand that a polyp can go through several steps before it goes malignant, unfortunately we do not know what the biological life of a polyp is', he continues. Ewen worries that if the growth promoter accelerated the time it took for the polyp to become malignant then it would make cancer screening programmes ineffectual.

A further worry for Ewen is that the CaMV 35S virus has a very 'close homology to the hepatitis B virus'. In areas of the world where hepatitis B is endemic and acquired at a very early stage, hepatitis B seems to be able to cause hepatoma, cancer of the liver, says Ewen. 'My concern might be because of its homology, that if you are taking a similar virus orally, you might be able to speed up the development of hepatoma. It has never been put to the test in an animal model, but it would be a difficult test to do, but not impossible.'

Ewen's concerns were backed up by experiments published in 2002 that showed that a 'significant proportion' of the transgene does survive in vitro simulations of the small bowel.57 This and other studies 'cast doubt on the assumption that plant-derived transgenes will not transfer to the intestinal microflora because the nucleic acid will be rapidly and completely degraded by the digestive enzymes'.[58]

The Audit

It was these kind of concerns – although preliminary – that forced Pusztai to speak out. The political and economic stakes were high. So were the stakes over the future of the Rowett. With Pusztai effectively silenced, like any institution under fire, the Rowett went into siege mentality and forbade anyone from talking to the press.

Meanwhile the audit team began work behind closed doors. The team was chaired by Andy Chesson, from the Rowett Institute, Pusztai's exboss. Other members included Chesson's Rowett colleague Dr Harry Flint, Head of Gut Microbiology and Immunology, Professor Bourne, the retired head of the Institute of Animal Health and Professor Davies from the SCRI. Effectively the only external scientist was Professor Bourne. The officials from the Rowett would argue that the audit was 'completely independent' and 'external'.59 'There were two Rowett people and two independent people', says Professor James. 'None of the four people had had a clue what he [Pusztai] had been doing.'

The audit, too, was to be controversial. It was not peer-reviewed and never published. According to Professor Rhodes of the University of Liverpool, although the report was 'generally factually correct', its conclusions were 'biased to an extent that in my opinion would not be deemed acceptable if subjected to peer review as for a scientific journal'.[60]

Ironically for a nutritional institute, no nutritionist was employed on the team. In total, according to Pusztai, the audit team took only 10 hours to review three years work. 'It was put together in such a hurry, that it contained many, many mistakes' he argues. 'There was no organ weight data, so many inaccuracies, and few of the data in the audit report were primary and only in-house statistical analyses were carried out', he says.[61]

The audit report was beneficial in one way to Pusztai, as it did prove that experiments had taken place. Despite the Rowett's insistence that no long-term transgenic GNA potato-feeding studies had been undertaken, in the audit report produced by the Rowett it outlines the details of Experiment D237, which started on 29.1. 98 of '110 day duration', which included 'GNA whole cooked potatoes'. It also includes a graph of the results of that experiment, and it dates them as 23/05/98 and 23/06/98.62 This means that the feeding experiment was completed in May and calculated in June 1998, that is, before World in Action was filmed.

The audit notes that at the end of the 110 day feeding period in the testing of the immune responsiveness, PHA – phaseolus vulgaris isolectin – and Con A were used, which are 'well recognised reagents used to test your immune function,' according to Pusztai. 'It will give you an index of how well the immune function is working'. That they looked at immune effects is also concluded by the audit report, which states that, as regards 'immune response,' the results 'obtained were, in most cases, far too variable to reach statistical significance'.

This means, responds Pusztai, not only were the tests undertaken, but that he was correct after all. 'It means that in some cases it was statistically significant, therefore I had the right to say in the TV programme that the immuno-responsiveness of the rats fed by GM potatoes was depressed. Their wording gives me full vindication', he argues.

Other scientists also believe the audit actually vindicates Pusztai. For example, Professor Rhodes, who was later to sign a Memorandum backing Pusztai, noted that the audit's conclusion that 'the results obtained, were in most cases, far too variable' 'clearly implies, by the use of "in most cases" that in at least some cases statistical significance was shown, which is clearly correct'.[63]

Rhodes went on to suggest that, contrary to the audit's conclusion that the results were 'too inconsistent to draw any meaningful conclusions', that a 'fairer' conclusion would be that the experiments 'have shown statistically significant alterations in lymphocyte function', which 'deserve further study'.[64] But rather than vindication, all Pusztai received was vilification. 'The Audit Committee is of the opinion that the existing data does not support any suggestion that the consumption by rats of transgenic potatoes expressing GNA has an effect on growth, organ development or immune function' they concluded in their summary.[65]

The Audit Committee stand by their conclusions. 'The audit report made clear that he had over-interpreted his data. I wouldn't for a moment say he was dishonest about it, but I think he over-interpreted it', says Professor Bourne.

Arpad and Susan Pusztai received a copy of the audit report in August 1998, one of only ten copies ever printed. Susan was forbidden to talk to others at the Rowett about it as she, too, finally found herself suspended. The reason was simple, she was told: 'Because you are Arpad's wife'. Susan finally retired from the Rowett on 1 May 2000 after nearly two harrowing years, and remains silenced on the subject for life.

By October 1998, the political fall-out had reached the House of Lords, with Professor James and Dr Chesson due to appear before the Lords Select Committee. Pusztai alleges that he was only given three days to respond to the audit committee. 'I said, look how can I do this because you took all our data', says Pusztai, who was then given back most, but not all, of his data.

At first Dr Pusztai produced detailed criticisms of the audit report, and after becoming so enraged at the mistakes he saw, he and Susan decided to write an 'Alternative Report'. They worked day and night for the next 72 hours. Exhausted, Arpad and Susan delivered the Alternative report to Professor James' house, only to find that he was not in Aberdeen.

Giving evidence to the Lords, James admitted that transgenic potato studies had actually been undertaken with GNA. It was 'also true that they were not done with the other lectin, the Con A, which was the subject of such intense media pressure on the first day'. James said that 'the plants used and these particular studies did not have anything to do with their putative release in to the food chain', a fact disputed by Pusztai.

James then said that 'Pusztai was no longer suspended because the audit is complete', although technically the Rowett had already forced him to retire, by moving his staff to other groups and forbidding him to talk to them.

James made, albeit at different times in his evidence, two statements that could be construed as incompatible. On the one hand, he repeated the audit findings and maintained that 'there were no grounds for concern on the basis of the studies that they had looked at'. On the other, he said that 'Dr Pusztai has come out of this audit review exonerated and to be seen as we all knew him as an intense investigative scientist with an international reputation'.[66] When asked about this, James says Pusztai 'was not actually guilty in my terms of deliberately misleading the world. He did mislead the world, but he was so wrapped up in the concept, he didn't distinguish between his experimental results and what he considered was a big issue of safety of GMOs'.

By the end of 1998, the Pusztai saga could have slowly subsided, with the scientist forbidden to talk to inquiring journalists. But wherever he went, scientific colleagues were curious to find out what had really happened to their colleague. Although banned from talking to the press, he was not banned from talking to other scientists outside the Rowett.

Some asked to see the audit report and his own alternative response. The ensuing correspondence led to a memorandum backing Pusztai being signed by 30 international scientists from 13 countries which was published in February 1999. The scientists said:

'We are of the opinion that although some of the results are preliminary, they are sufficient to exonerate Dr Pusztai by showing that the consumption of GNA-GM-potatoes by rats led to significant differences in organ weights and depression of lymphocyte responsiveness compared to controls. There was also strong evidence that GNA-GM potatoes and indeed two lines of GNA-GMpotatoes in the study were also different. This makes a very strong case for the necessity of performing further work to elucidate the toxico-pathological importance of these findings.'[67]

One of the scientists backing Pusztai was the former principal scientific officer at the Rowett, Dr Kenneth Lough. 'The institute is at risk of sending out signals to scientists working in [this] field of research that any sign of apparent default will be treated with the utmost severity. The awareness will of course act as a strong deterrent to those who wish to conduct research in this vitally important field.'[68]

When the scientists' memorandum was published it once again fanned the front pages. 'Ousted Scientist and the Damning Report into Food Safety' ran The Guardian. 'Scientist in Frankenstein Food Alert is Proved Right', said The Mail on Sunday.[69]

Lost in the controversy was the simple fact that Pusztai's backers were calling for the experiments to be repeated. Both from a scientific and lay perspective it would seem much more logical to repeat experiments that have disputed results, rather than just trying to silence the messenger. The Rowett rejected the scientists' claims as misleading, though.[70]

The following month, March 1999, Pusztai received further backing when it was announced that the same GM potatoes had caused other harmful effects. One of Pusztai's colleagues, Dr Birch, from the SCRI had fed the GM potato plants, containing the snowdrop lectin to aphids. The aphids were then fed to ladybirds. The scientists found that 'ladybird fecundity, egg viability and longevity significantly decreased … female ladybird longevity was reduced by up to 51 per cent'. The SCRI concluded that: 'These results demonstrate that expression of a lectin gene for insect resistance in a transgenic potato line can cause adverse effects to a predatory ladybird via aphids in its food chain' and went on to warn that in no way was this work a 'worst case scenario' and that, 'ideally, the transgenic crops genetically engineered for pest resistance should be monitored closely after commercial release, to check for possible longer term, sublethal impacts on the agro-environment'.[71]

Working with Birch were the Gatehouses – John and Angharad – from Durham and Newcastle University, who had fallen out very badly with Pusztai over the whole GM potato episode. In happier days, they made Pusztai the godfather of their daughter, but the relationship had turned very sour. John Gatehouse remains critical of Pusztai: 'What he was doing was alarmist and he had not eliminated a number of other possibilities that could have caused the effect he was observing. The correct control experiments had not been done. He hadn't established the effect he was observing was a result of the potato being genetically modified,' Gatehouse maintains.

John Gatehouse acknowledges he is named as an inventor on a patent for the snowdrop lectin, although 'it is not being maintained'. Working with other scientists, the Gatehouses went on to write a further paper on the effects of the snowdrop lectin on ladybirds which contradicted their earlier paper and concluded, that 'GNA does not have significant direct toxic or adverse effects on developing ladybird larvae'.[72]

Having worked on the snowdrop lectin for years, Pusztai says he was approached in early 1997 by the Gatehouses and SCRI and asked to look at the Con A, as they felt that Con A would be a better insecticide than the snowdrop lectin. 'Very reluctantly we agreed. It was always said that when you put in a toxic protein gene, it is not surprising that you got a toxic potato. What people always forget to say is that the toxicity of the Con A was established by me and I published it quite some time before the GM potato controversy. So they are referring me to my own work. I told them though it won't have a cat in hell's chance of going through the regulatory process'.

But three years after the initial controversy, Dr Birch's team published yet another study based on, amongst others, one of the same lines of potatoes that Pusztai had fed to his rats. They found that GM could 'result in unintended and unexpected modification in the level of bioactive secondary plant metabolites of potato leaves'.[73] Here was further proof that GM was not predictable and that biological processes inside plants were being affected in a way that no one had intended. However, back in 1999 when the media frenzy was reaching fever pitch, the scientific establishment knew it had to discredit Pusztai. The Rowett Institute announced its intention to seek an independent review of his work and contacted The Royal Society, which issued its own damnation of Pusztai.

Notes

1 10 Downing Street (1997) Press Notice regarding the Proposals of Setting up the FSA, 8 May.
2 Pusztai, A (2000) 'Dr Pusztai Speaks', Laboratory News, February.
3 Pusztai, A (2002) 'GM Food Safety: Scientific and Institutional Issues', Science as Culture, Number 1, p69–92.
4 Interview with Michael Gillard, 1999.
5 Pusztai, A (2001) Lecture given at Schumacher College, Devon, January.
6 Flynn, L, Gillard, M and Rowell, A (1999) 'Ousted Scientists and the Damning Research into Food Safety', The Guardian, London, 12 February, p6.
7 Pusztai (2000) op cit.
8 Pusztai, A (2002) The 'Scientific Advisory System: Genetically Modified Foods' Inquiry; Memorandum to the Science and Technology Committee, 1999, p1.
9 Science and Technology Committee (1999) Scientific Advice to Government: Genetically Modified Food, Memorandum Submitted by the Rowett Research Institute, The Stationery Office, London, 8 March, p41.
10 Flynn, Gillard and Rowell (1999) op cit.
11 Pusztai, A (undated) Bt Maize Story, Notes; Flynn, Gillard and Rowell (1999) op cit.
12 The Rowett Research Institute, Annual Report 1994, Aberdeen, 1995, pp126–127.
13 Professor James, P (2002) Interview with Author, September.
14 House of Commons Select Committee on Agriculture (1998) Fourth Report, 22 April; quoting Food Standards Agency: an interim proposal by Professor Philip James, 30 April 1997.
15 James, P (1998) Interviewed on Forbidden Fruit, Frontline, BBC Scotland, February.
16 World in Action (1998) New Health Fears Over 'Frankenstein' Food, Press Release, Granada Television Limited, 10 August.
17 Verakis, D (1998) Speaking on GMTV, 10 August, 6.25 a.m.
18 Rowett Research Institute (1998) Genetically Modified Foods, Press Release, Aberdeen, 10 August.
19 Rowett Research Institute (1998) Genetically Modified Foods, Press Release, Aberdeen, 10 August.
20 Science and Technology Committee (1999) Scientific Advice to Government: Genetically Modified Food, Minutes of Evidence Dr Arpad Pusztai and Dr Stanley Ewen and the Rowett Research Institute, Professor Philip James and Dr Andrew Chesson, The Stationery Office, London, 8 March, p47.
21 Verakis(1998) op cit.
22 Pusztai, A (1998) Speaking on GMTV, 10 August, 6.25 am.
23 Ingham, I (1998) 'Genetic Crops Stunt Growth', The Express, London, 10 August, p1.
24 Cunningham, J (1999) Interview on TV News and Channel Four News, 12 February.
25 Professor Burke, D (1999) 'No Big Deal', The Guardian, London, 13 February, p21.
26 Pusztai, A (1998), Speaking on World in Action, How Safe is Genetically Modified Food, 10 August.
27 Rowett Research Institute (1998) Genetic Manipulation of Foods, Press Release, Aberdeen, 11 August.
28 Bardocz, S (1999) Summary of Research Results, 5 Page Note to Professor James, Professor Bremner and Dr Chesson, 11 August.
29 BBC (1998) 'UK Genetics Scientist Suspended', report by Science Correspondent James Wilkinson, 12 August.
30 Hawkes, N, (1998) 'Scientist's Potato Alert Was False, Laboratory Admits', The Times, London, 13 August.
31 Wilson, E (1998) 'Got It Wrong', The Daily Mail, London, 13 August.
32 Radford, T (1998) 'Scientist in Genetic Food Scare Suspended', The Guardian, London, 13 August.
33 Science and Technology Committee (1999) op cit, p47
34 Kirby, A (1999) 'GM Foods: What's the Hurry', BBC, London, 17 February.
35 BNA Chemical Regulation Daily (1995) 'Administration Committed to Industry R&D Despite Budget Cuts, Gore Adviser Says', 13 January.
36 Lambrecht, B (2001) 'Dan Glickman – Outgoing Secretary Says Agency's Top Issue is Genetically Modified Food', St. Louis Post-Dispatch, 25 January.
37 St. Clair, J (1999) 'The Monsanto Machine', In These Times, 7 March. 38 Ibid.
39 Eastham, P (1999) 'They Couldn't be Closer to Blair. So Why are These Men Working for the World's Biggest Genetic Food Firm and Opening Doors to the Highest Level of Government?' The Daily Mail, London, 13 February, p5.
40 The Royal Society of Canada (2001) Expert Panel on the Future of Food Biotechnology, Ottawa, p179.
41 BBSRC Business (1998) 'Making Crops Make More Starch', January, p6–7; quoted in Diamond, E (2001) The Great Food Gamble – An Assessment of Genetically Modified Food Safety, Friends of the Earth, London, May, p14.
42 Flynn, Gillard and Rowell (1999) op cit.
43 Martineau, B (2000) First Fruit – The Creation of the Flavr Savr™ Tomato and the Birth of Biotech Food, McGraw Hill, New York, p69.
44 Dr Pozueta-Romero, J (2002) 'Tools of Genetic Engineering in Plants', in Fruit and Vegetable Biotechnology, ed Victoriano Valpuesta, Woodhead Publishing, Cambridge, March, Section 2.6.1, p12.
45 Senior, I and Dale, P (1996) 'Plant Transgene Silencing – Gremlin or Gift?' Chemistry & Industry, 19 August, p605.
46 Pozueta-Romero (2002) op cit, p10.
47 Finnegan, H and McElroy D (1994) 'Transgene Inactivation: Plants Fight Back!,' Bio/Technology, 12, p883.
48 Ibid.
49 Pozueta-Romero (2002) op cit, p10.
50 Gillard, M S and Flynn, L (1999) 'Key GM Gene is Owned by Monsanto', The Guardian, 17 February, pp1.
51 Ibid.
52 See the Genewatch UK database at www.genewatch.org
53 Hansen, M (2000) Genetic Engineering is Not an Extension of Conventional Plant Breeding; How Genetic Engineering Differs from Conventional Breeding, Hybridization, Wide Crosses and Horizontal Gene Transfer, Consumer Policy Institute/Consumers Union, January.
54 Al-Kaff, N et al (1998) 'Transcriptional and Posttranscriptional Plant Gene Silencing in Response to a Pathogen', Science, Vol 279, 27 March, p2113; Pozueta-Romero (2002) op cit.
55 Hansen (2000) op cit.
56 Coghlan, A (2002) 'Don't Panic', New Scientist, Vol 174, No 2340, 27 April, p13.
57 Martin-Orue, S et al (2002) British Journal of Nutrition, in press at time it was quoted by Netherwood, T et al (2002) Transgenes in Genetically Modified Soya Survive Passage Through the Human Small Bowel but are Completely Degraded in the Colon, Department of Biological and Nutritional Sciences and Department of Agricultural and Environmental Sciences, University of Newcastle upon Tyne.
58 University of Newcastle (2002) Technical Report on the Food Standards Agency Project G010008 'Evaluating the Risks Associated with Using GMOs in Human Foods', Food Standards Agency, July.
59 James, P (1999) Interviewed on Reporting Scotland, 12 February.
60 Rhodes, J (1999) Re: SOAEFD Flexible Fund Project RO 818 – Audit Data 21.08.98, Letter to Arpad Pusztai, 10 February.
61 Pusztai (2000) op cit.
62 Bourne, Chesson, A, Davies, H and Flint, H (1998) SOAEFD Flexible Fund Project RO 818, Audit of Data Produced at the Rowett Research Institute, 21 August.
63 Rhodes, J (1999) Letter to Arpad Pusztai, Regarding SOEFD Flexible Fund Project RO 818, 10 February.
64 Ibid.
65 Bourne et al (1998) op cit; Rowett Research Institute (1998) Genetically Modified Organisms: Audit Report of Rowett Research on Lectins, Press Release, Aberdeen, 28 October.
66 James, P (1998), Evidence Before the House of Lords Select Committee, London, 28 October.
67 Memorandum signed by 30 Scientists (1999) February. The scientists were Professor K Baintner, Department of Physiology, Pannon Agricultural University, Kaposvar, Hungary ; Profs. B S Cavada, R de Azevedo Moreira, A F F U de Carvalho, M de Guia Silva Lima, J T A de Oliveira, I M Vasconcelos (previous PhD students and/or collaborators of Pusztai) Universidade Federal do Ceara, Fortaleza, Brazil; Prof J Cummins, Emeritus Prof Genetics, Ontario, Canada; Dr S W B Ewen, Department of Pathology, Aberdeen Royal Hospitals, Aberdeen; Prof R Finn, Department of Medicine, The University of Liverpool; Prof M Fuller, Stony Brook, NY 11790; Prof B C Goodwin, Schumacher College, Dartington, Devon; Dr J Hoplichler, Federal Institute for Less-Favoured and Mountainous Areas, Vienna; Dr C V Howard, Fetal and Infant Toxico- Pathology, The University of Liverpool, UK; Dr J Koninkx, Department of Pathology, Faculty of Veterinary Medicine, University of Utrecht; Prof A Krogdahl, Norwegian School of Veterinary Science, Oslo; Dr K Lough, Bankhead, Aberdeen, (formerly of the Rowett Research Institute, Aberdeen; Dr D Mayer, Heidelberg; Prof F V Nekrep, Biotechnical Faculty, Zootechnical Department, University of Ljubljana, Slovenia; Prof S Pierzynowski, Department of Animal Physiology, University of Lund, Sweden; Prof S Pongor, Protein Structure and Function Group, International Centre for Genetic Engineering and Biotechnology, Trieste, Italy; Prof I Pryme, Department of Biochemistry and Molecular Biology, University of Bergen, Norway; Prof J Rhodes, Gatroenterology Research Group, The University of Liverpool; Dr L Rubio, Department of Animal Nutrition, Estacion Experimental del Zaidin, Granada, Spain; Prof M Sajgo, Department of Chemistry and Biochemistry, Godollo University of Agriculture, Hungary; Prof U Schumacher, Department of Neuroanatomy, University of Hamburg, Germany; Dr B Tappeser, Institute for Applied Ecology, Freiburg, Germany; Prof T Wadström, Department of Medical Microbiology, University of Lund, Sweden; E Van Driessche, Prof, Laboratory of Protein Chemistry, Vrije Universiteit Brussel, Brussels, Belgium; T C Bøg-Hansen, senior associate professor, The Protein Laboratory, Institute of Molecular Pathology, University of Copenhagen, Denmark
68 Flynn, Gillard and Rowell (1999) op cit, p7.
69 Leake, C and Fraser, L (1999) 'Scientist in Frankenstein Food Alert is Proved Right', The Mail on Sunday, London, 31 January.
70 Rowett Research Institute (1999) 'Genetically Modified Foods', Press Release, Aberdeen, 12 February.
71 Birch A et al (1999) 'Tri-trophic Interactions Involving Pest Aphids, Predatory 2-Spot Ladybirds and Transgenic Potatoes Expressing Snowdrop Lectin for Aphid Resistance', Molecular Biology, Vol 5, pp75–83.
72 Down, R et al (2000) 'Snowdrop Lectin (GNA) Has No Acute Toxic Effects on a Beneficial Insect Predator, the 2-Spot Ladybird (Adalia Bipunctata L.)', Journal of Insect Physiology, Vol 46, pp379–391.
73 Birch A et al (2002) The Effect of Genetic Transformations for Pest resistance on Foliar Solanidine-Based Glycoalkaloids of Potato (Solanum tuberosum), Annals of Applied Biology, Vol 140, pp143–149.


Copyright Andy Rowell, 2003.