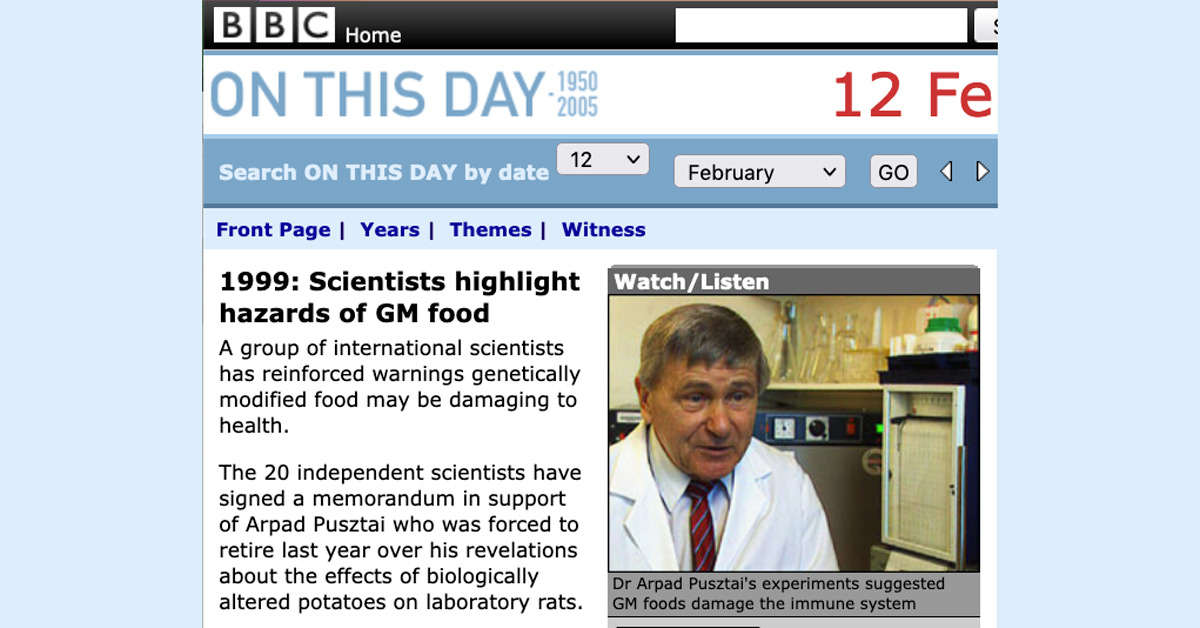 Árpád Janos Pusztai, PhD, one of the first scientists to raise concerns about the safety of genetically modified foods, died Dec 17, 2021, at the age of 91. By Howard Vlieger
Árpád Janos Pusztai, PhD, one of the first scientists to raise concerns about the safety of genetically modified foods, died Dec 17, 2021, at home with his wife, Susan (Zsuzsa) Bardócz, at his side. He was 91.

Pusztai was born Sept 8, 1930, in Budapest, Hungary. He was a student of the high school Obudai Arpad Gimnazium. In 1953, he obtained a diploma in chemistry from the Eotvos Lorand University in Budapest. He worked for three years as an associate scientist at the Hungarian Academy of Sciences before the Hungarian revolution against Soviet control in 1956.

After the failed revolution, Pusztai escaped to a refugee camp in Austria and from there made his way to England. He completed his doctorate in biochemistry at the Lister Institute in London. In 1963, he was invited to join the Protein Research Department at the Rowett Research Institute in Aberdeen, Scotland.

Pusztai worked at the Rowett Institute for the next 36 years, predominately studying plant lectins. During that time, he discovered glycoproteins in plants, authored more than 270 research papers, published three books and was considered an "internationally renowned expert on lectins."

Pusztai was named a Fellow of the Royal Society of Edinburgh in 1998 and has received fellowships from the Leverhulme Trust.

I first communicated with Pusztai by email in 2003. I was attempting to educate my US senator on the adverse effects of GMOs (genetically modified organisms) on mammals.

I had followed Pusztai's research since first hearing about it in 1998. While doing investigative work about GMOs, I came across his email address. I subsequently sent him an email in hopes that he would respond.

To my surprise, I received a reply within three hours. This was the beginning of an amazing opportunity for me as I had not yet directly connected with any research scientists who were concerned about the damaging effects of GMOs.

My study of GMO crops began in1994 and my on-farm research began in 1997.

I had the extreme privilege of communicating with Pusztai, and more importantly, gaining a full understanding of the mechanisms of how GMOs were made and what was responsible for causing the damaging effects on mammals. I was subsequently and fortunately mentored by Pusztai for many years.

Pusztai was a wise and caring man and even though he had tremendous accomplishments, he was humble and simultaneously able to stand his ground and courageously speak the truth against the evil forces that attempted to distort and ridicule his stellar research.

The world owes a huge thank you to Pusztai for exposing the dangerous effects of GMO crops. He remains an amazing example as a human being and a scientist — and possibly a warning signal to other scientists afraid to venture into this area of research for fear of destroying their careers.

Thanks to Pusztai's insistence on one component of our pig study (with Judy Carman, PhD), we discovered the extreme behaviour differences between the GMO-fed pigs and the non-GMO-fed pigs.

This is a little known fact yet today because of the refusal to allow its mention in our scientific study, published in 2013. The editor of the scientific journal that published the pig study refused any mention of this surprising finding.

Today, I am aware of numerous examples of such extremes in behaviour differences in multiple species of animals that are consuming GMO feedstuffs. This information has been relayed by a number of nutritionists and veterinarians across North America who are capable of "seeing what they look at."

Is it plausible to believe that GMOs could be having the same effect(s) on people, especially children?

I will always remember one specific comment Pusztai made to me in the first phone conversation I was privileged to have with him. He said: "I cannot believe how unknowing and uncaring the people in your country are, about the food they put in their body."

How true that was then and regrettably still is today.

I am truly blessed to have known Pusztai and to have been educated and mentored by him. I am equally blessed to know his loving, caring and intelligent wife, Susan Barcdocz.


This article was first published by The Defender; it is republished on GMWatch with permission.